Free Richmond Library Beginner's Chess Tournament #3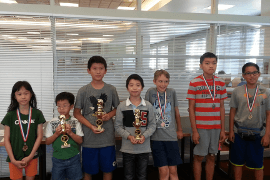 Free Beginners Chess Tournament
Richmond Public Library in collaboration with the Chess2Inspire Association is hosting a Beginners Chess Tournament.
Location: Richmond Library – Brighouse Branch Ground Floor Kids Place Program Room
Schedule: Sunday Dec 11th, 2016, 12:30 – 4:30pm
Admission: Free, Pre-registration Required
Players: Unrated or Rating under 800 (CMA, CFC or NWSRS, will be verified)
Regulation: Players with CMA, CFC or NWSRS rating over 800 are not eligible for prizes
Time Control: G15 – 15 minutes each side (chess clocks will be use in last 10 minutes)
Equipments: All provided
Format: 5 Rounds Swiss System.
Age: 5 – 14
Seats: 40, Pre-registration Required
No show: Players registered but do not show up may not be allow to join the next chess tournament
Please email to notify the organizer if you change your mind after registration, so other players can join the event.
Round Time (Tentative, subject to change)
12:30-1:00pm Check-in

1:00-1:30pm Round 1

1:35-2:05pm Round 2

2:10-2:40pm Round 3

2:45-3:15pm Round 4

3:20-3:50pm Round 5

4:00 - 4:30pm Award Ceremony
Prizes
Trophies: 1st, 2nd & 3rd place
Medals: Top 3 unrated players
Chess gift: All participants
Tie-break for prizes: Ties will be broken using tie-break systems (direct encounter, individual cumulative score, then cumulative score of opponents)
Byes - rounds that you cannot attend
We strongly advise players to attend all of the rounds, as a chess game is play between 2 players, any player that skips a round affects another player. The other player will be forced to skip that round as there will be no opponent to play against. If you must skip one or more round(s), please inform the Tournament Director (TD) or the Organizer(s) at least 30 minutes before the game so that they can make appropriate arrangement for other players. Players skipping games without informing the TD or the Organizer(s) will be forfeited from the tournament, and will not be able to re-enter the tournament without a valid reason and the approval of the TD.